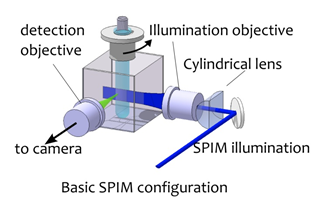 SPIM, ultramicroscopía o en general las llamadas técnicas de Haz de Láser Plano son técnicas que permiten la obtención de imágenes rápidas de alta resolución, de gran tamaño, ópticamente limpias, de especímenes tridimensionales. En el SPIM se ilumina la totalidad del órgano, muestras de tejido relativamente gruesas o cultivos organotípicos y tridimensionales, mediante un fino haz e luz que escanea a los especímenes a lo largo de un eje mientras la luz emitida es recogida a lo largo de un eje óptico perpendicular, asegurando así que el plano focal de detección coincide con el haz de luz.
Este método ofrece una única variedad de posibilidades:
Obtención de imágenes tridimensionales con valores cuantitativos
Generación de imágenes tridimensionales multiespectrales interpretables a través de imágenes multi-color
Visualización y reconstrucción de procesos in vivo mediante la toma de imágenes sucesivas (time lapse) 
Además, el SPIM presenta ciertas ventajas sobre otras técnicas como:
Baja fototoxicidad y blanqueado de foto (Photo-bleaching)
Alta velocidad de adquisición de imágenes
Alta sensibilidad en la detección
Excelente penetración de la luz
Alta resolución tridimensional
Articulos Seleccionados
---
Alicia Arranz, Di Dong, Shouping Zhu, Charalambos Savakis, Jie Tian, Jorge Ripoll , "In-vivo Optical Tomography of Small Scattering Specimens: time-lapse 3D imaging of the head eversion process in Drosophila melanogaster", Scientific Reports 4, 2014
Di Dong, Alicia Arranz, Shouping Zhu, Yujie Yang, Liangliang Shi, Jun Wang, Chen Shen, Jie Tian, Jorge Ripoll, "Vertically scanned laser sheet microscopy", J. Biomedical Optics 9:10 (2014)
Ignacio Iglesias, Jorge Ripoll, "Plenoptic projection fluorescence tomography", Opt. Letters 22(19) (2014)
Panagiotis Symvoulidis, Karin M Jentoft, P Beatriz Garcia-Allende, Jürgen Glatz, Jorge Ripoll, Vasilis Ntziachristos, "Steady-state total diffuse reflectance with an exponential decaying source", Opt. Lett. 39(13) (2014)
MONOGRAPHS
 J. Ripoll Lorenzo, "Principles of Diffuse Light Propagation: Light Propagation in Tissues with Applications in Biology and Medicine". World Scientific, 2012. ISBN 9814293768. 
Proyectos
---
ULTRAFAST OPTICAL IMAGING WITH PHASE INFORMATION.
Role: Principal Investigator
Institution where project takes place: Universidad Carlos III, Leganés, Madrid, Spain.
Head(s) researcher(s): Jorge Ripoll (CO-IP), Miguel Moscoso (CO-IP)
Funding institution or bodies: MINECO, RETOS 2016, No. de Ref: FIS2016-77892-R
Start date: 2017
End date: 2021
Tasks addressed: Live Phase Optical Imaging in mesoscopic systems.
MESO-IMAGING, IMAGEN ÓPTICA DE TEJIDOS MESOSCÓPICOS: TEORÍA, COMPUTACIÓN Y APLICACIONES EN BIOLOGÍA​​​​​​​
​​​​​​​Role: Principal Investigator
Institution where proInstitution where project takes place: Universidad Carlos III, Leganés, Madrid, Spain.
Head(s) researcher(s): Jorge Ripoll (CO-IP), Miguel Moscoso (CO-IP)
Funding institution or bodies: MINECO, RETOS 2013, No. de Ref: FIS2013-41802-R
Start date: 01/09/2014
End date: 31/08/2017
HIGH THROUGHPUT OPTICAL TOMOGRAPHY
​​​​​​​Role: Principal Investigator
Institution where project takes place: Universidad Carlos III, Leganés, Madrid, Spain.
Head(s) researcher(s): Jorge Ripoll
Funding institution or bodies: EU, Marie Curie PICIG12-GA-2012-333632
Start date: 15/06/2013
End date: 14/06/2017
Funding institution or bodies: EU, Integrated Project Contract: MEST-CT-2004-007643
Patentes
---
*Título: Sistema y Método para Tomografía Óptica de Alto Rendimiento de Múltiples Muestras y Especímenes
Resultado Comercialización
Naturaleza: Patente
País protección válida: España
Fecha Solicitud: 21/10/2014
Nº Solicitud: P201431546 (aprobada)